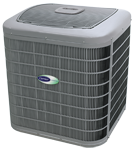 Air conditioners may look similar, but their Seasonal Energy Efficiency Rating (SEER) can vary widely. Higher SEER numbers save more money spent on electricity. A 13 SEER air conditioner, the EPA "current minimum standard", uses 23% less energy then a 10 SEER unit (EPA standard up until Jan. 2006). Even though 13 SEER is the minimum efficiency available, we currently offer a line of air conditioners that start at 13 SEER and go all the way up to a 21 SEER . Depending on your average usage, higher SEER air conditioners can significantly reduce your electric bill.
Additionally, we offer many air conditioners that have advanced features, such as 2-stage compressors and variable speed fan operation. These features not only improve the comfort level of your home, but can provide additional energy savings as well.
Air Conditioning Product Offering
Goodman Air Conditioning Product Offering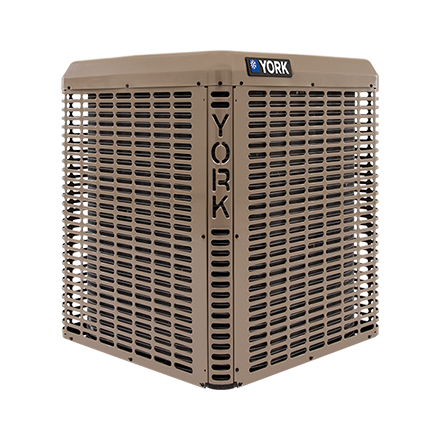 LX Series Air Conditioner
View Brochure
Model Family: YCE
Efficiency SEER: Up to 16 SEER
Efficiency EER: Up to 11.7 EER
Energy Star Rated: No
Sound Level: Quiet operation
Refrigerant Type: R-410A
Compressor: Single Stage Compressor
Factory Warranty Parts: 10-Year Parts Limited Warranty
Factory Warranty Compressor: 10-Year Compressor Limited Warranty
Manufacturer's Stated Benefits:
1-year Labor Limited Warranty
Reliable operation proven in our extreme, 5-year accelerated test facility.
Improved alloy, MicroChannel Coil provides more performance in less space.
Small-footprint cabinets deliver maximum performance that is both space and budget friendly.
Minimal vibration noise thanks to advanced fan blade design.
Add healthy allergen filtration and indoor-air-quality options in our low-leakage air handler.
Enjoy advanced levels of efficiency with matched components that do more with less energy.
Get efficient heat transfer thanks to optimized coils for effective airflow and refrigerant circulation.
Count on internally protected compressor to withstand high temperatures and pressures.
Durable powder coat paint creates an automotive-quality finish that looks great for years.